"So long as the human spirit thrives on this planet, music in some living form will accompany and sustain it."
Aaron Copland
There are various pieces of music on my site, please click once to play, this may take a few seconds..............
Mozart-ave-verum-corpus.mp3
I was born in Cottingham, East Yorkshire, and my love affair with music began at an early age having been encouraged by my Father to study both violin and piano. I was extremely fortunate to gain a place at Chetham's School of Music, Manchester, and prior to this I played in the East Riding Youth Orchestra for four years. After education my life took on a series of unexpected twists and turns which ultimately led to new experiences and new ideas.
With no formal training I began painting flowers, still life and local landscapes. In 1991 I moved to Nottinghamshire. This became a turning point. Having already discovered the work of Kandinsky and Klimt, I started experimenting with colour, and form, and soon found that by painting to music my work took on a more vibrant appearance with a sense of rhythm and movement. Eager to pursue this I listened to the same music on repeat until the painting was finished. My geometric style emerged and now each painting does represent a particular piece of music: an interpretation of how I see and feel the piece at the time. A copious amount of gold ink is often used to illuminate some of the more sombre and flatter colours and to infuse an exotic intensity with varying degrees of texture.
My solo 'Geometrics' exhibitions in Nottinghamshire and Lincolnshire have been extremely successful and my work is also shown and sold at various other locations in the UK including the NEC Birmingham, and Chester.
I have been hugely privileged to carry out many interesting and challenging commissions using an eclectic mix of music, from Bach to Take That, Parry to Shostakovich, and a wide variety of other composers in between. Commissions include two large scale paintings for the East Riding Schools' Music Service to celebrate the opening of the Hexagon Music Centre, Beverley, interpreting the music of John Adams and Sibelius.
In 2009/10 I was very fortunate to collaborate with pianist and composer Peter Dobson, London: an extremely satisfying experience with successful results. Some of his work may be heard on three of my gallery pages together with images of the paintings that inspired him: 'Tea Dance' (2010) 'Piano Cocktail' (Geometrics 3 page 2) and 'Deep In The Forest' (Geometrics 3 page 3). A piece Peter composed for his wife, Ann, accompanies my 'News' page and 'Triste' may be heard on my 'Contact Me' page. In turn, Peter's piano music inspired me to create new work: 'September Fantasy' and 'Tinian', these may be viewed on 'Geometrics 3' pages.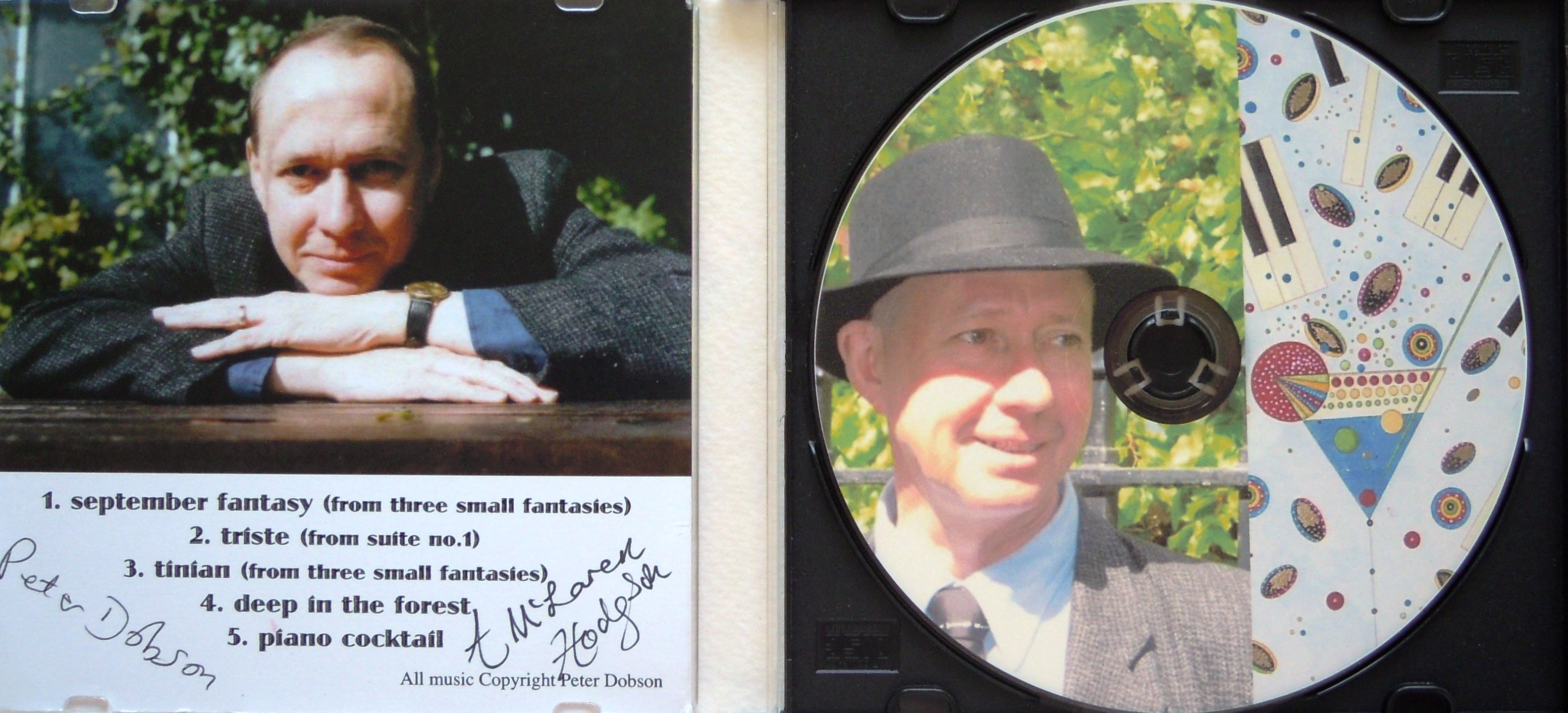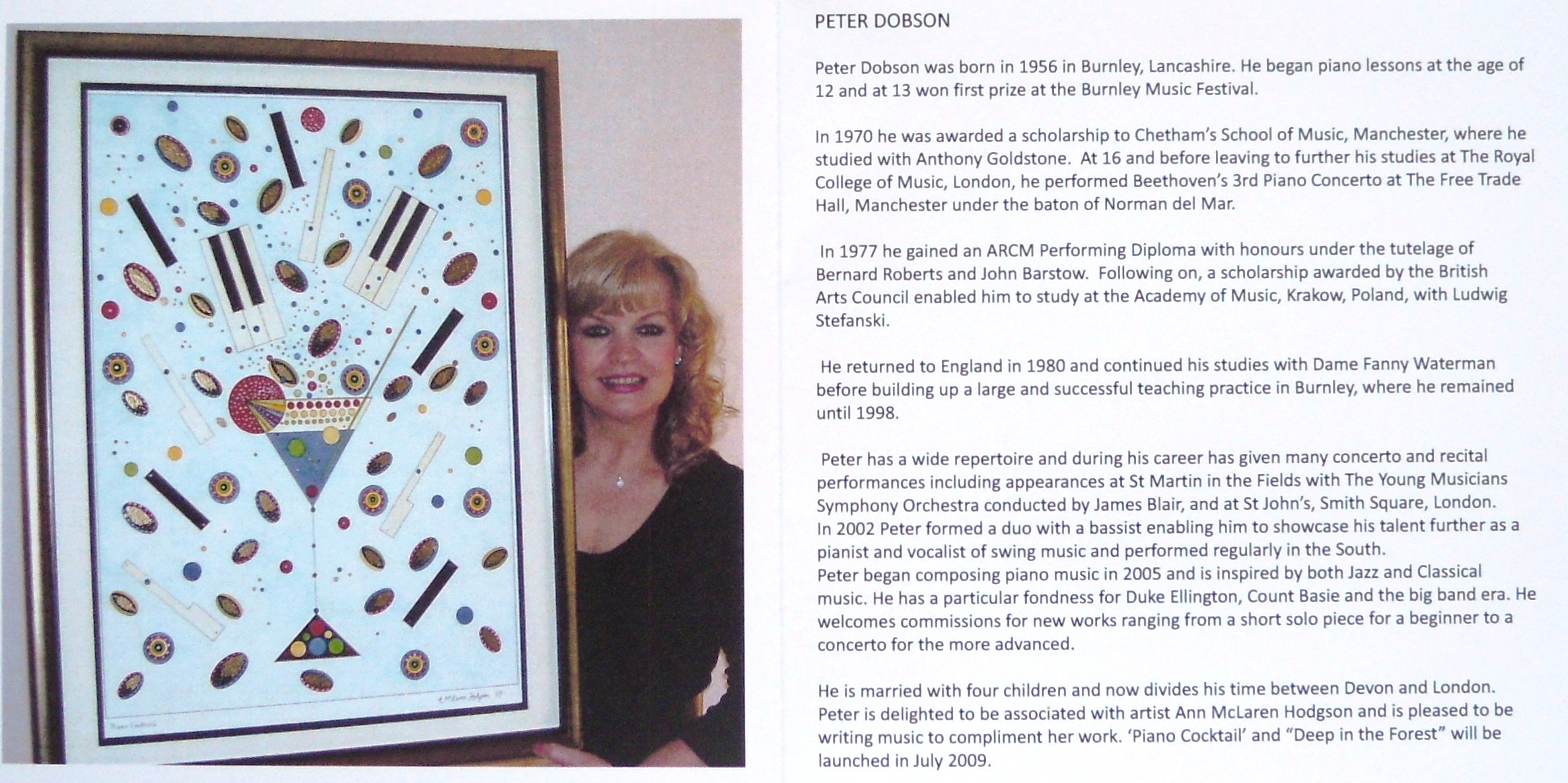 'Glimpse Into Time' (2013) is the result of my exciting collaboration with Brazilian-American Composer, Miguel Kertsman. 'Glimpse Into Time' was inspired by Miguel's experimental Electro-Acoustic album, 'Time? What's Time?'
A YouTube video has been created by Miguel's production team to showcase our collaboration. To share this experience please do visit 'Glimpse Into Time'.
For more information on Miguel Kertsman please go to www.miguelkertsmancomposer.com

'My Red Book' (2013) is the result of my collaboration with multi-faceted UK composer and musician, Andrew Keeling. 'My Red Book' is my interpretation of Andrew's latest CD: Andrew Keeling and Otherworld - 'My Red Book'. Track 11 - 'Mythos' Pt. 3 - Syren (Copyright - Think Ahead Music and Spaceward Records - 2014) can be heard on 'My Red Book' page.

'Five o'clock Sun' (2014) is the latest collaboration with Andrew Keeling. Album released 1st December 2015. Please click on the main menu bar to hear the opening track of Five o'clock Sun (Intro)/Bright Star - (Keeling/Fellows/Jackson)
ANN McLAREN HODGSON: Book of Paintings 2008 - 2015
Second edition, revised and updated, published 2016
Signed hardback editions are available in two sizes. Please visit the
'ANN McLAREN HODGSON BOOK OF PAINTINGS AND GREETING CARDS' page for further details.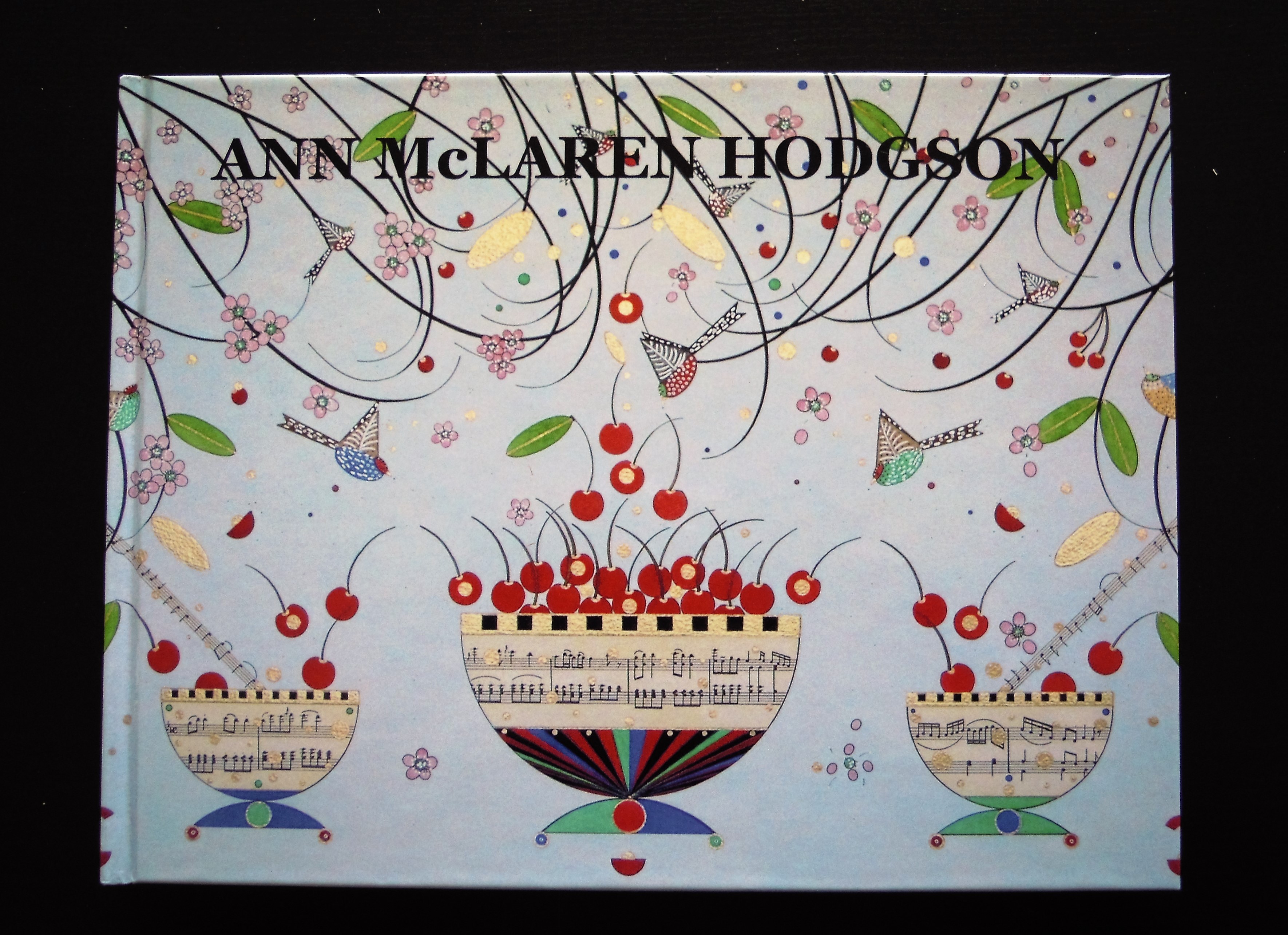 Greeting Cards an exclusive, high quality range are available to order.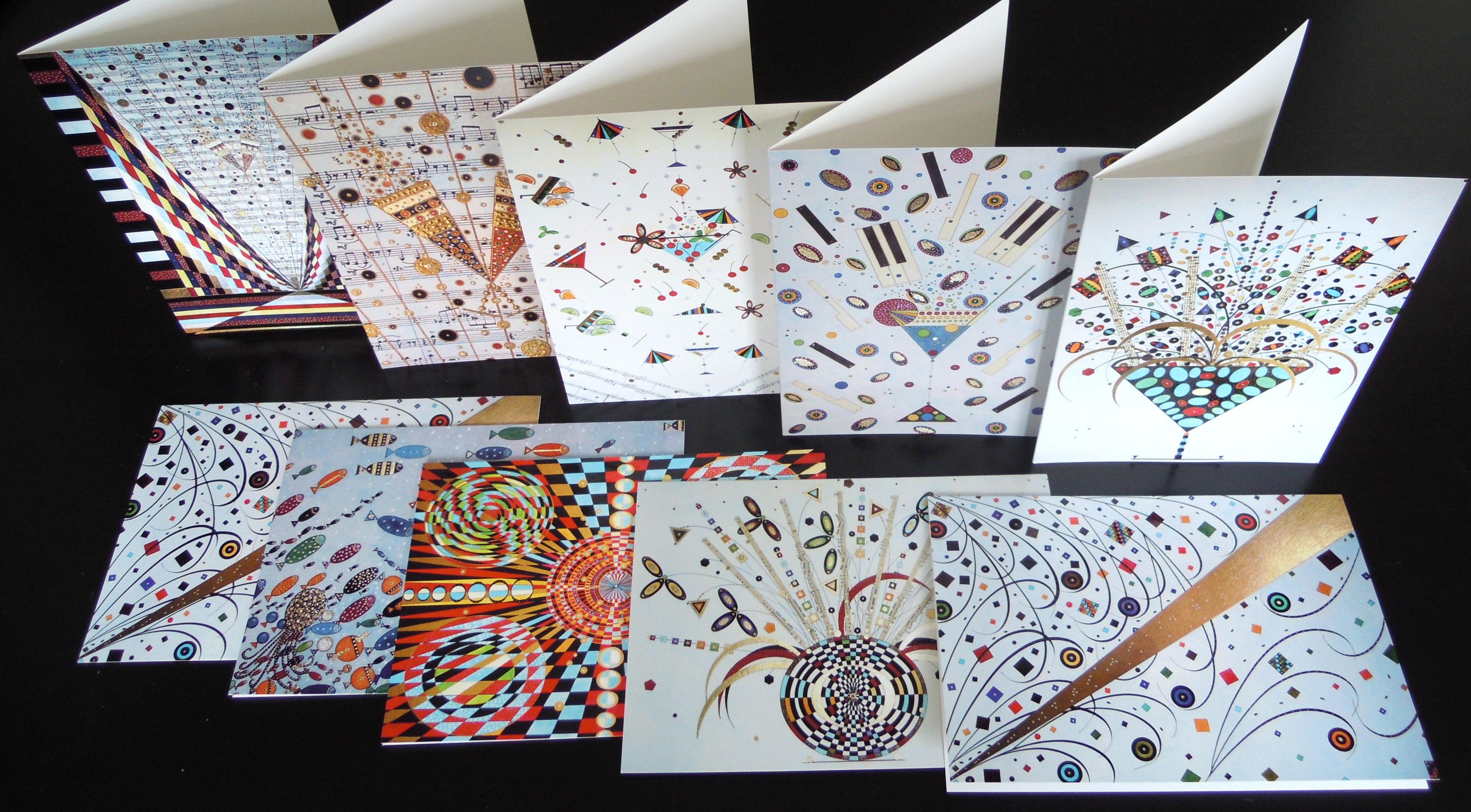 I have a particular fondness for Beethoven, Mahler, Mozart, Shostakovich, Richard Strauss, Rock and Jazz! However, it would be impossible for me to choose either a favourite piece of music, or a favourite composer. Not only have my horizons been broadened, my love affair with music has well and truly blossomed.
My work is to be found mainly in private collections in the UK and abroad.
'Construction on Chetham's'
2010
70 x 100cm
An interpretation of 'Symphonic Construction on Chetham's' composed by Gwilym Simcock, gifted to the school to celebrate the 40th Anniversary of Chetham's School of Music, Manchester, in 2009.
Chetham's School of Music
Private collection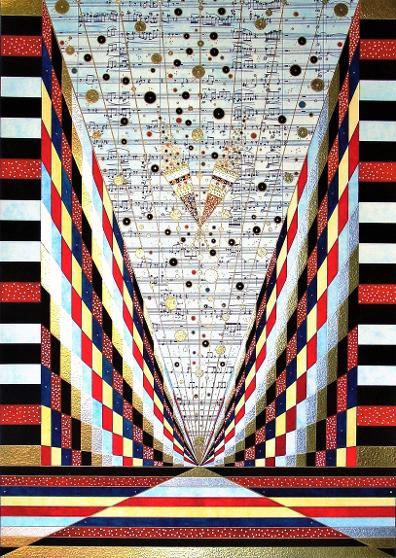 (C) Ann McLaren Hodgson 2018